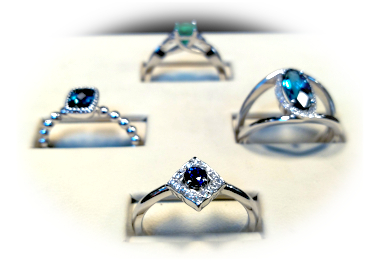 Buy Estate Jewelry at Your Local Jeweler
If you want a piece of heirloom quality jewelry at the fraction of the price, shop used diamonds. With a variety of diamond estate jewelry available in the diamond store, like these, GIA-certified diamonds in white gold with semi-precious gems as center stones for instance.
Tasteful and refined our selection of used diamond jewelry is as practical as it is dazzling to behold. Your local jeweler's expertise ensures you can shop a captivating in-person collection of used diamonds for sale.
If you are looking to sell your diamonds you are looking for answers to two questions: "Are there jewelry stores that buy diamonds near me?" And "Are there good jewelry appraisals near me?" Yes, and yes, are your answers. If it suits your lifestyle, shop around in order to sell diamonds. Just shop us first (!) to hear the best-priced jewelry appraisals before you step out and go anywhere else.
Selling Diamond Ring | Used Diamonds Appraiser
We would love to see your estate jewelry collections come through the door. 'Your Personal Jeweler' is always on the lookout for unique, high-quality settings and gems. We offer competitive market value prices on used diamonds of any carats and stand on our reputation 100% of the time. We are not only one of the most generous jewelry stores that buy diamonds near you, we are a full-service diamond store offering an array of different services which include cleaning, customization, and maintenance for your valuables.
As your local jeweler, we pride ourselves on being the trustworthy and forthcoming local jewelry appraiser you can depend on with your estate jewelry. Our doors are open to you for any and all your jewelry needs. Come see our wide selection of used diamonds and locally sourced semi-precious gems, bring some of your jewelry from the past and perhaps create a whole new custom design with us, or just parley a better deal for your jewelry than you could anywhere else in town.